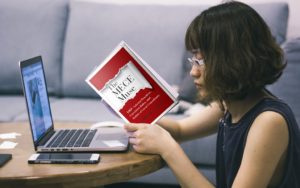 Within the last month, I know at least 25 people that have told me they are either writing their first book or thinking about it. I'm excited to hear this and looking forward to seeing many more new authors in 2018 and beyond.
As a new author publishing my first book, here are my top lessons learned from writing my first book.
1.
Know who you are writing the book for so much so that you have a defined avatar and/or persona of your reader. What do they need? How do they think? Why would they care about your book? What are their fears or motivational triggers? What problem are you helping them solve? Visualize this avatar every time you write.
2.
Know why you are writing the book. Make sure it is compelling and authentic to you. If you want to write a book just to make money, here is a grounding statistic: the average first time, non-celebrity author sells 200-300 books in the first year and depending on the business model you use to publish your book, most authors average a net profit of .50 cents to $10 per copy.
3.
Just start writing or recording something every single day. Refine later. But capture your thoughts early and often. Make it a habit. I wrote every single day – some days, I only had a paragraph in me, other days I cranked out 5 pages in an hour. Go with the flow.
4.
While it is great to receive questions from all types of people about your book because it will help you see your book from varying perspectives, only take advice from other authors or media experts that have written and/or published a book before.
5.
If you decide to go the self-publishing route, be willing to invest if you want to create a high quality product. From beginning to pre-launch, I invested approximately $20k to ensure that my book was going to be on par with a book coming out of a traditional publishing house.
6.
Make sure your team's values, communication style, and work ethic complements yours.
7.
Good covers and good editors make or break your book's success.
Do not skimp on your book cover design or the editing services you will use.
8.
Only have your targeted audience read your book and give you feedback. In books the wrong feedback from the wrong reader can skew the content/direction/voice of your book.
9.
You are going to get attached to every word you write….let it go. Focus on the words that your reader needs, not what you need.
10.
Build a platform of engaged fans and readers. Bring them along the journey of your book. If you do not have a platform, it is never too late to start. You can build the platform as you write your book.
11.
You have to get use to asking people for help for your book. A good book takes a village to create.
12.
For your first book, I suggest to not worry about the date you publish (unless your book needs to be specifically timed due to your topic).
In most cases, I recommend focusing on quality over speed. It took me close to 3 years to finish my book and I am glad I took my time because I now have a book that I am very proud of.
13.
On the topic of dates and timing, create deadlines as a guide but do not beat yourself up if you do not make the dates.
I didn't realize how much writing a book is a creative process and rushing the process is not ideal.
14.
Listen and trust your intuition when talking to a book agent, publisher, etc.… If it is too good to be true, it probably is. Do not let a book agent take away your core message in pursuit of sales. Remember your why throughout the process.
15.
Read the fine print of any contractual agreements.
Ask questions.
Conduct comparisons. Obtain second or third professional opinions.
16.
Create a support network of people that are not afraid to give you honest feedback about your book.
Constructive feedback from the right people is oxygen for an author.
17.
Do not worry about someone else writing a similar book. They are not you having your individual experience on Earth using your voice. It will not be the same book. Instead focus on how your book will be differentiated and what uniqueness appeal you will bring to your project.
18.
Accept that you will have to continue building momentum about your book while you are writing and long after you launch the book.
19.
Do not be afraid to outsource components of your book.
For example, I used Fiverr contractors to conduct topical research or to help transcribe interviews.
20.
At certain points in the process you will doubt your ability. You will get tired. You will ask if the book content is good enough. Listen to your voice and to your readers. If you have a book on your heart, you can do this. You got this!